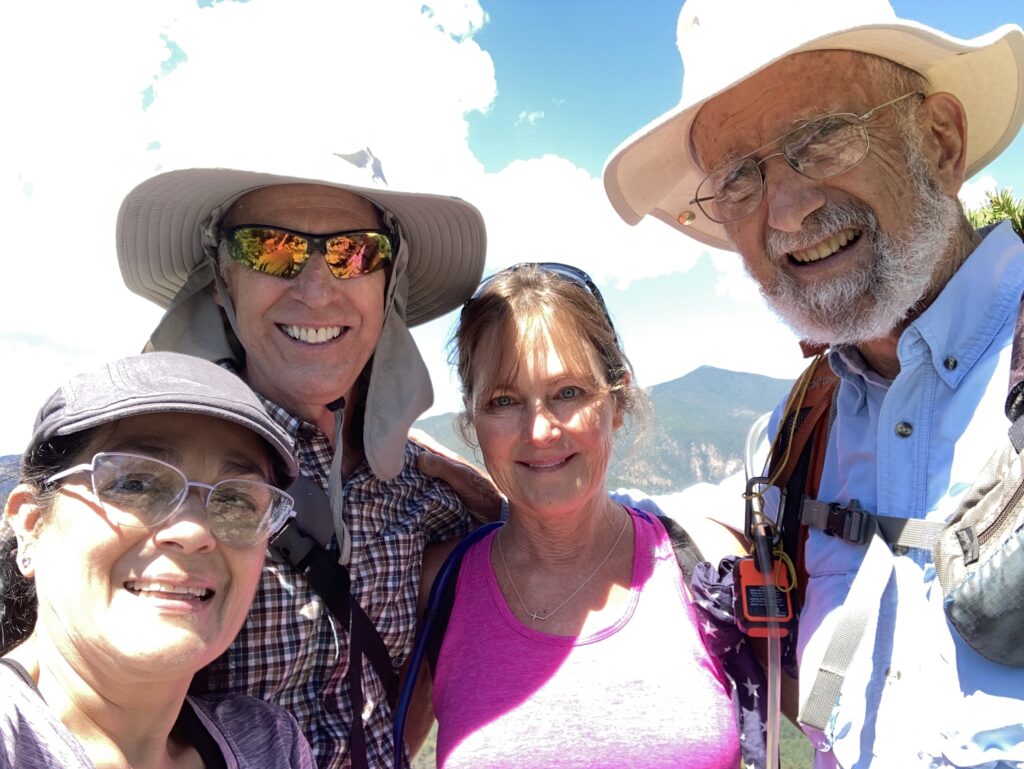 A few years ago I had the pleasure of meeting Eric Swab. Eric lives in Colorado Springs and has been an avid hiker in the area for the past twenty years. Eric is also is an historian of Cheyenne Mountain. Almost all the documented history of our cabin has been a result of Eric's extensive research. He is a walking, talking encyclopedia of Cheyenne Mountain. Chronologically, Eric is in his early 80's. Physiologically, he appears to be in his early 60's.
Over the July 4th Weekend, Eric led three of us; my wife Maritza, Sharon, a friend from Indianapolis, and myself on MacNeil Trail. The trail head for MacNeil starts about 2.5 miles south of our cabin near Old Stage Ranch. The trail head is on the left hand side and marked by a cairn. The four of us hiked the MacNeil Trail until we could see Cloud Camp, amazing cabins on the top of Cheyenne Mountain, owned and operated by the Broadmoor Hotel. The hike took about 2 hours in one direction. We had a scenic lunch in close proximity to a grouping of large boulders called the Horns. The Horns can be seen directly above Twin Pines cabin. The MacNeil Trail is an out and back. However, on the return hike, we branched off of MacNeil Trail onto Swisher Trail and ended up near our cabin. This was by design as we had earlier left Eric's jeep near our cabin and used my car to transport all of us to the MacNeil trailhead to start our hike.
If you plan to do some hiking during your stay at Twin Pines, the MacNeil Trail is one to put at the top of your list. The MacNeil Trail is not known to tourists and few locals know its location. In addition to having minimal chance to meet human animals on the trail, the vistas from the trail are spectacular. My nephew, Tony, who has lived in Colorado Springs for 45 years, has been on most of the trails that surround Colorado Springs. Less than a month ago, I showed Tony, his wife Monica, and Bo, his beautiful English Cream Golden Retriever, the MacNeil Trail. After the hike, Tony proclaimed that the MacNeil Trail was now his favorite trail in the Colorado Springs area.
In addition to MacNeil Trail, you can find most trails in the Colorado Springs area on an app called "All Trails". All you do is enter the city name or trail name and a description and location of the trail will be shown. Eric Swab informed of this app and it has been very informative.
I like to hike. Unfortunately, my hiking this summer has been slowed down because I developed Plantar Fasciitis on my left foot. However, it's finally improving and I look forward to hiking on a consistent basis later this summer. Maybe I will see you on one of Cheyenne Mountains many trails.