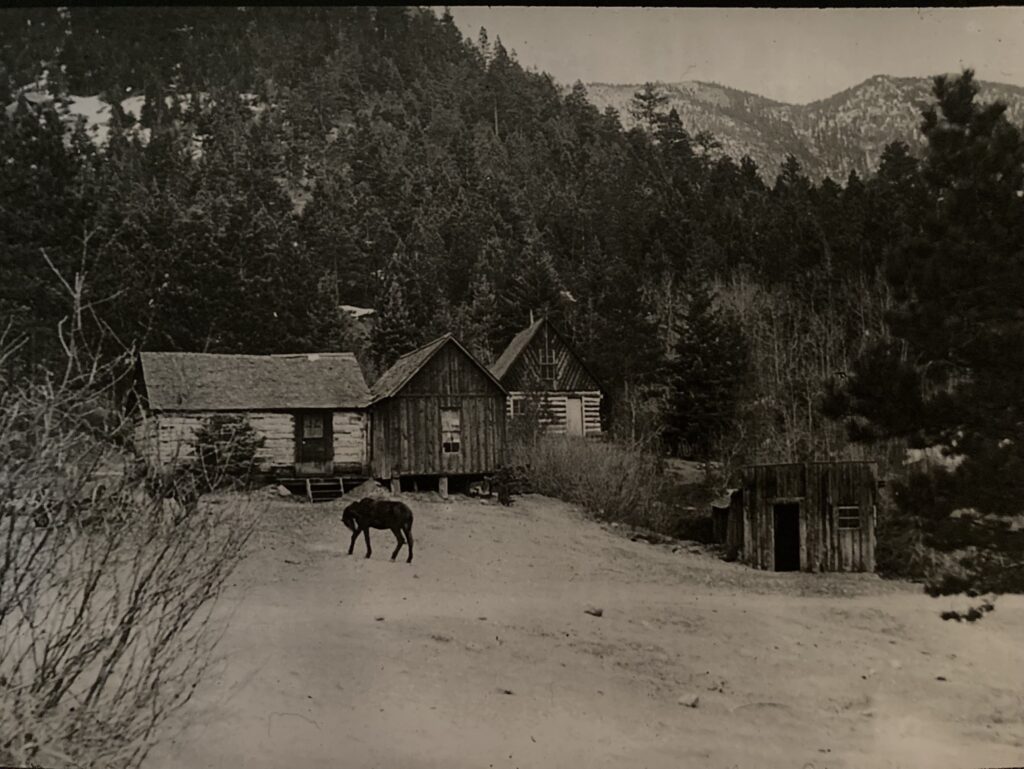 In 1891, Joel Wade was issued a deed for 160 acres on Cheyenne Mountain. In 1893, Wade sold 1.07 acres of the 160 acres to his friend William Glendenning. It is speculated that Wade and Glendenning became business partners and used .38 acres of the 1.07 acres to establish Wade's Stage Coach Rest Stop, also known as Wade's Place and Wade's Half Way House. Wade and Glendenning took advantage of their location on Cheyenne Mountain Trail (later known as Old Stage Road) to serve prospectors that were traveling between Cripple Creek and Colorado Springs during the gold rush. Cheyenne Mountain Trail was the only link between Colorado Springs and Cripple Creek. Thousands of prospectors flocked to the region between 1890 and 1910 and it became known as the "World's Greatest Gold Camp". More than 22 million ounces of gold were extracted from more than 500 mines in the Cripple Creek and Victor Region (an abandoned mine shaft is located behind Twin Pines). This amounted to $11.2 billion (in today's dollars) in gold. Wade's Place consisted of a blacksmith shop, several overnight cabins, and a saloon. On the remaining .69 acres, Glendenning lived on the site where Twin Pines is located today. The cabin consisted of two rooms. Today, those two rooms serve as the downstairs family room and upstairs second bedroom for Twin Pines.
Wade's Stage Coach Rest Stop was located 4 miles from the Broadmoor Hotel. Travelers starting the journey in Colorado Springs looked forward to stopping at Wade's Place as a much needed break on their way to Cripple Creek. Wade's Place enjoyed a lucrative business for several years. However, in 1897, The Colorado Brings & Cripple Creek District Railway connected the two cities and Wade's Place slowly became less popular.
Glendenning's two room cabin retained its original form until Hamlin Smithdeal rebuilt the cabin in the late 1940's adding a kitchen and downstairs bedroom. The cabin underwent another major renovation in 1996 when Steve Cambridge purchased the cabin. The kitchen was updated and a master bedroom was added. In 2021, almost 130 years since the cabin was originally built, Twin Pines went through another major renovation in preparation for a transition as an Air B&B. The kitchen was updated; new cabinets, countertops, and stainless steel appliances were added. Tile floors were placed in the kitchen and both bathrooms. The 80-year old hardwood floors were refinished. New mattresses placed on all the beds. And, a fresh coat of paint was added throughout the cabin. Exteriorly, guardrails were placed around the deck. Handrails were installed for the flagstone steps leading to the cabin. Windows were professionally cleaned. A split rail gate was added to the driveway entrance. The result was summed up best by our first guests' review: "The cabin was spectacular."
Throughout the renovation, we remained diligent in preserving the overall integrity of the cabin. When we could, we incorporated the previous construction with new construction. This diligence in preserving the past is best seen on the deck. We incorporated the existing stone columns with new stone columns and finished it off with wood benches carved from pine trees in the area.
During the renovation, which we termed Twin Pines 2.0, the goal was to create a venue where guests could enjoy nature, the mountains and each other. We believe Twin Pines is that venue. Our hope is that guests will enjoy the Twin Pines experience so much that they will want to return in the future. If that happens, we know we achieved our vision.